Lear Siegler, Inc. (LSI) Terminal ADM3A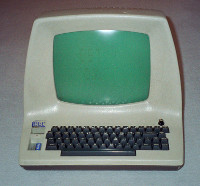 The LSI ADM3A is a very interesing piece of hardware (i think it's the only terminal which casing was made of bakelite..). It was first built around 1977 by the Lear Siegler, Inc located in Anaheim, California and was used a lot back in the Good Old Days(tm). Actually, it was even made before the ever famous dec vt100. The first version of the editor vi was written by Bill Joy using an ADM3A terminal. Surprise.. there are arrows printed on the keys h,j,k,l! And could this this be the reason why the home directory shortcut is ~ with Unix? The ADM3A is also the reason for the existance of the word terminak. According to Brian M. O'Connell's page it was available as a kit ($995) or assembled ($1195).


All its functions are implemented using TTLs, except for three special puropose ICs. (I got this wrong earlier.. should have taken a closer look..)


One of the more remarkable "features" is that it only can display upper case letters.. there is some add-on chipset which enables lower case letters. There are even terminals out there emulating the ADM3A, such as the ADDS 4000/110 .


It looks like one of those old 1960s TV-sets.. somehow it always reminds me of the movie "Brazil"... :)
The ADM3A was built very solid, Rich Kulawiec reports on a news group dedicated to the LSI ADM3A ( alt.religion.adm3a .. read this quote from the Yucks Digest on the creation of this newsgroup) that his ADM3A even survived being bounced down a flight of stairs. With its weight of around 14 kg I would not prefer having a ADM3A tossed onto me...


One of the reasons why it is that heavy is that it is not using a switched power supply but a simple mains transformer..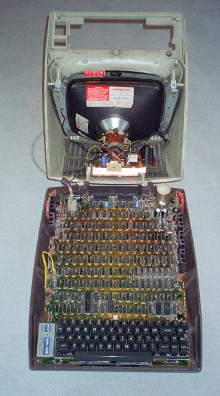 The casing consists of two halves, the bottom one and the top one which looks like a half egg and can be swung open to the back. The bottom contains the keyboard, a circuit board containing mainly TTLs and below that the transformer. The top of the casing contains the CRT and the necessary electronics to drive the CRT.

The keyboard is also very interersting. You can pull off the keys, but don't expect the usual, encapsulated microswitches. The keys are stuck onto hollow plastic squares which contain the alligator-clip like copper contacts. When the keys are pulled off you can see the contacts and watch them close as the plastic squares are pushed down. And it got arrows printed onto the keys h, j, k and l - what do you need more.

At the back there are two serial connectors, one labeled "modem" (this is where we plug in the terminalserver) and one labeled "extension".

As everything is implemented in hardware, there's also no setup menu or anything comparable. The setup is done using DIP-switches which are located at the left of the keyboard, hidden under a panel which is screwed to the casing.

Following are the DIP-switches as labeled on the terminal and their meanings:

| | | | |
| --- | --- | --- | --- |
| Description | DIP Position 1 | DIP Position 2 | Explanation |
| BIT 8 | 0 | 1 | this term only does 7bit. set unused 8th bit to 1 or to 0? |
| PARITY | - | INH | enable or inhibit the parity bit? |
| STOP | 1 | 2 | 1 or 2 stop-bits? (nowadays, default is 1) |
| DATA | 7 | 8 | use 7 or 8 data bits? |
| PAR | ODD | EVEN | odd or even parity? |
| LC | EN | UC | use lower case and upper case as created using shift or always do uppercase? |
| . | AUTO NL | OFF | automatically do a newline when the right end of the screen is reached? |
| . | RS232 | CL | Select RS232 or 20mA Current Loop connection |
| . | HDX | FDX | halfduplex or fullduplex? (Terminal does a local echo in HDX mode) |
Then follows a row of DIP switches of which only one may be set, setting Baud rates of 19200, 9600, 4800, 2400, 1800, 1200, 600, 300, 150, 110 or 75 Baud.

The picture tube is a Samsung 12ZBY31N (green), and has some very interesing stickers attached to it.
One says "Do not use ion trap" (click here for an explanation what this means), another one reads:

X-RAY WARNING
Shielding of this cathode-ray tube for X-Ray radiation may be needed to
protect against possible danger of personal injury from prolonged exposure
at close range.

Very interesting indeed, given the fact that the stickers on all CRTs today state that "this picture tube is shielded against X-Ray radiation" and "max. 25kV" or similar...


Yet another sticker right below the serial connectors at the back of the terminal reads:

"This equipment hast not been tested to show compliance with new FCC rules
(47 CFR Part 15) designed to limit interference to radio and TV reception.
Operation of this equipment in a residential area is likely to cause
unacceptable interference to radio communications requiring the operator
to take whatever steps are necessary to correct the interference."

I guess my neighbors won't be very pleased.. :)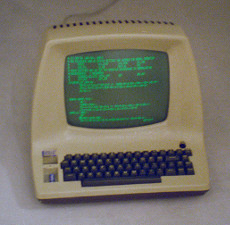 If you have any problems hooking the ADM3A up to a terminal server, you might want to have a look at my (very short) setup howto. Further information can be found in my local copy of the archive file of the alt.religion.adm3a newsgroup.


By the way.. an ADM3A can be seen in one scene of the movie "Close encounters of the Third Kind" (US sci-fi, 1977). If you know of any more appearances, please tell me.

The company LSI itself has been closed down and auctioned off quite some time ago.

Links to other adm3a resources